Spring 2021 In-Person Content Tutoring 
In-Person Tutoring Hours:
Starts Wednesday, April 14
Math 10A-C: Wednesday, 12-4 pm

Starts Thursday, April 22
Chem 6A-C: Thursday, 12-4 pm
Sessions must be scheduled in advance (instructions below). One-on-one tutoring sessions are 30 minutes long (see below for in-person tutoring expectations and guidelines). 


Please add your contact information for our waitlist should there be a cancelation or if you would like tutoring but don't see it available: https://forms.gle/6pkAh3gBKWjoufDYA 
Sign in to TutorTrac with your Single Sign-On username and password

Student Options

Click on "Search Availability"

Search Criteria

Center: Content Tutoring

Reason: In-Person Tutoring

Section: Select your course

Click "Search"

Select the time you would like to schedule your session.
Once you schedule your appointment you will be emailed a confirmation. Please read through the expectations and guidelines below before attending tutoring.
The tutoring session will be held in Study Tent (P416 - International Plaza) located on library walk next to the Career Services Center. The tutor will be located at the long tables on the side closest to the International Students & Programs Office.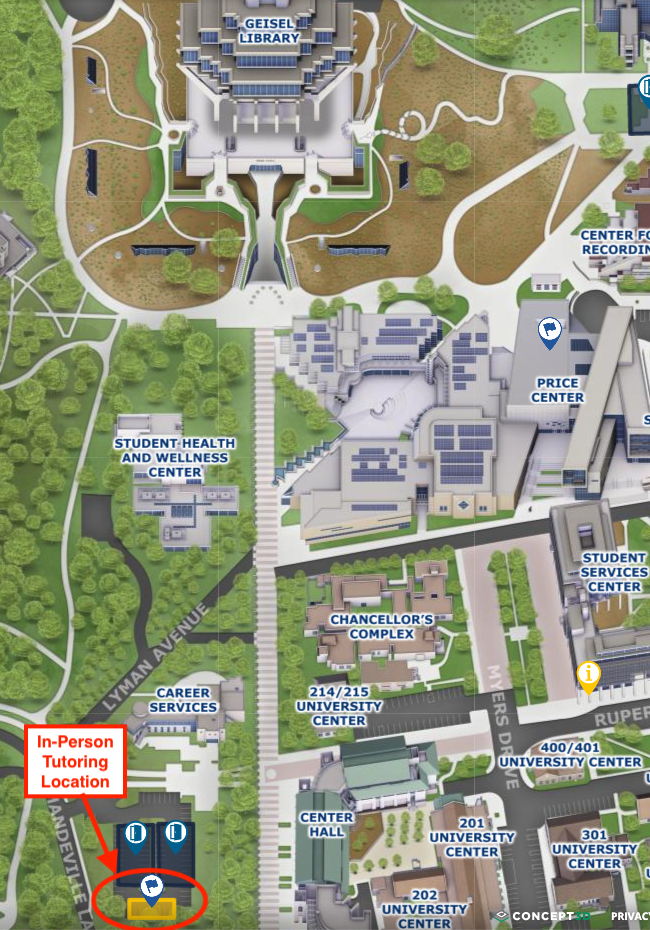 This guide provides students with key information to have a safe and successful tutoring session. 
Please wear your face masks whenever you are at the tutoring location and maintain physical distance (6 feet). Please follow the tutor's directions regarding seating and session work with the tutor. 
Be sure to add the California COVID Notify app to your phone to receive an alert if you've potentially been exposed to COVID-19 to ensure your and the tutor's safety. 
We are requiring all staff to complete the COVID-19 Symptom and Exposure Screening before reporting to campus. Please show your daily COVID-19 Symptom and Exposure Screening (green thumb) for the day of your tutoring session.