COVID-19 Student Information
Due to the current situation of COVID-19, all Spring 2020 Content Tutoring sessions will be online.
The Zoom link for the session can be found on the

 

Content Tutoring Schedule

 

page
Your Tutor will be waiting for you in the designated Zoom meeting room at the session time. If your Tutor is not in your room by the starting time, contact AAH@ucsd.edu
Please contact

 

zoom@ucsd.edu

 

or +1.888.799.9666 extension 2 if you're experiencing technical difficulties
Our programs support academic integrity for all students. For more information, view the Academic Integrity Office web page.
We are committed to providing access to students with disabilities.  To request assistance or an accommodation, please email AAH@ucsd.edu or fill out the Google Form.

How to Use Zoom
Enter an Online Tutor Session
To ensure a good learning experience and high-quality audio and connectivity, you will need the following:
An internet connection – broadband wired or wireless (3G or 4G/LTE)

Speakers and a microphone – built-in or USB plug-in or wireless Bluetooth

A webcam or HD webcam - built-in or USB plug-in

Or, an HD cam or HD camcorder with video capture card
For a full list of recommendations for operating systems, mobile devices, and supported browsers, please visit Zoom's System Requirements for PC, Mac, And Linux
To create a Zoom account go to https://blink.ucsd.edu/technology/file-sharing/zoom/index.html and sing up for a Zoom account using your SSO account (all UCSD accounts have been upgraded to Pro accounts).
Once you have created a Zoom account, you should be ready to attend an online tutor session. To do so,
Click on the link provided on the

online tutoring schedule page

. (Links are divided by Math/Economics/Physics and Chemistry/Biology/Psychology).

The link will direct you to the Zoom meeting room.

Private chat your name and course you would like to receive tutoring to the Main Host.

The Main Host will add you the waitlist and assign you to a Tutor as soon as an open spot is available.

Remember to click "Join Breakout Room" in order to meet with the Tutor.
After Entering a Tutoring Session
After you enter the breakout room with your tutor,  you are ready to begin your session. You are able to chat with your tutor at any time.
You will also be able to enable your webcam and microphone.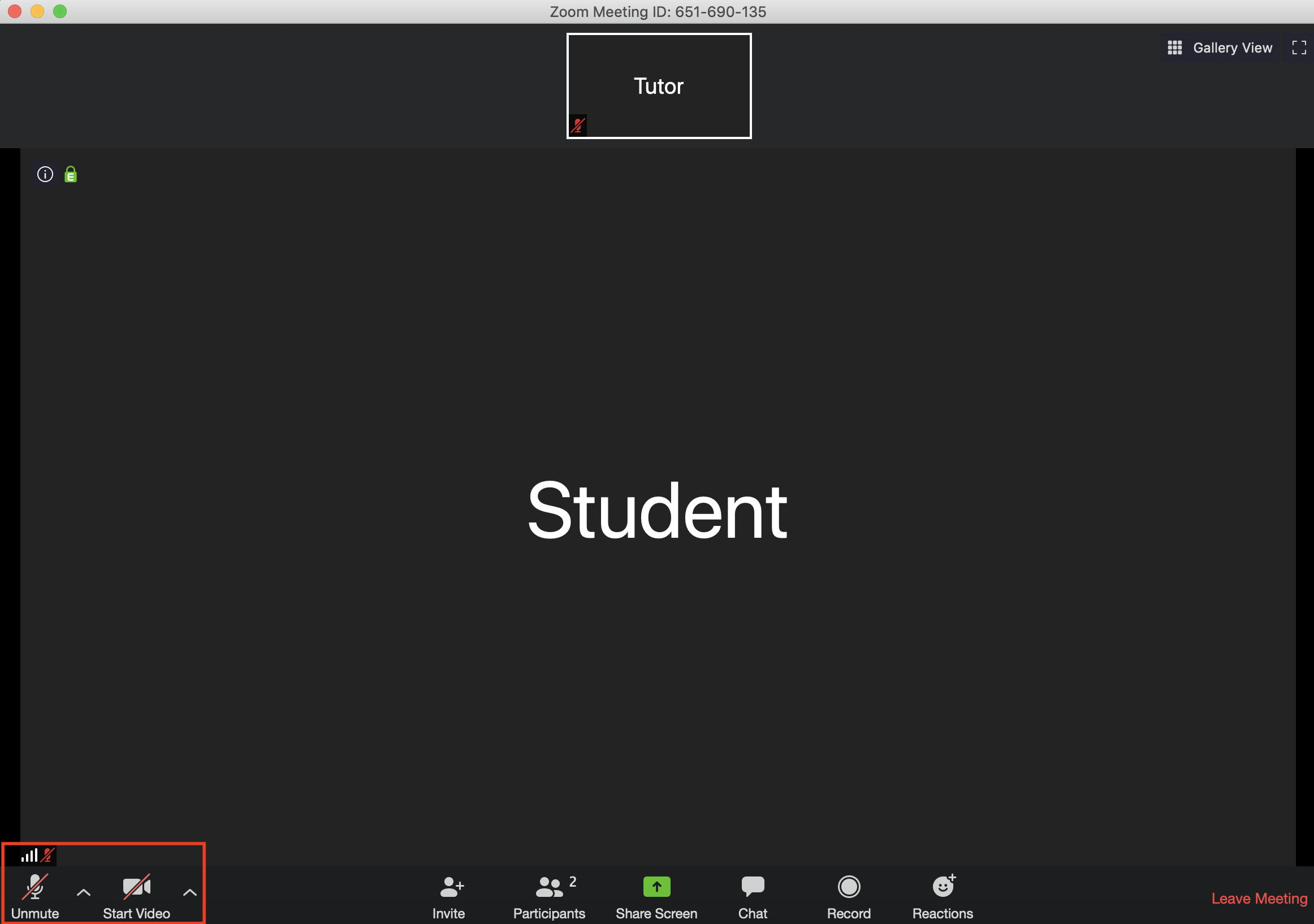 Toolbars and Tools

Toolbar at the bottom of screen
Meeting tools which allow you to turn on/off your microphone, turn on/off your webcam, chat, and show gestures to the tutor. 
Write on the Whiteboard
 
Under "View Options" select "annotate" to write on the whiteboard. 

Whiteboard tools will allow you to write on the whiteboard, add text, change font color and size, and save your work to your desktop.
If you have any trouble using the tools, ask the tutor for guidance.