Location
All programs are currently on Zoom, but this is the location once we return to in-person support. The Academic Achievement Hub is part of the Teaching + Learning Commons located on the lower level of Geisel Library.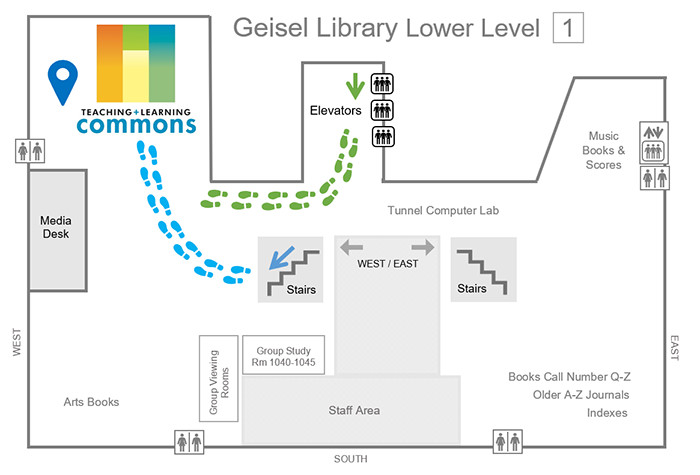 Directions from Geisel Library entrance:

Go through the front lobby of Geisel Library and turn Left.
Walk past the information desk toward the reference desk.*
Go down the stairs on the

 

Left

 

just before you reach the reference desk.
Turn to the

 

Right

 

and you will see the Commons' entrance, pictured above.
*Elevators are located behind the circulation desk.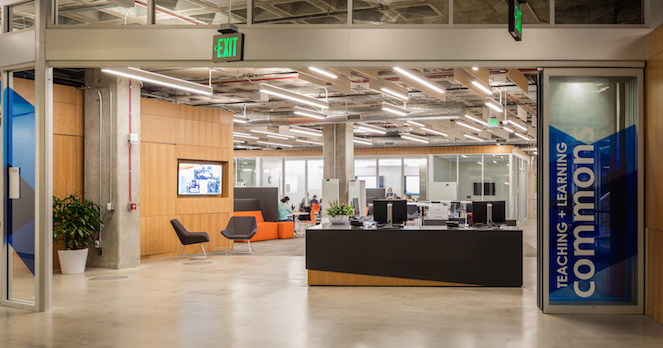 Services Offered at this Location:
Learning Strategies Appointments
Learning Strategies Workshops (one of many locations)
Supplemental Instruction (one of many locations)
Content (subject-area) Tutoring
---
Mailing Address
Teaching + Learning Commons
Academic Achievement Hub
UC San Diego
9500 Gilman Drive MC0175-W
La Jolla, CA 92093
COVID-19 Student Information
Due to the current situation of COVID-19, all Academic Achievement Hub staff will be working remotely.
If you have questions about Academic Achievement Hub services, please contact AAH@ucsd.edu
Our programs support academic integrity for all students. For more information, view the Academic Integrity Office web page.
We are committed to providing access to students with disabilities.  To request assistance or an accommodation, please email AAH@ucsd.edu or fill out the Google Form.