Employment Opportunities
SI Leaders play a critical role in the program because they serve as knowledgeable peers who engage members with each other to promote active learning. They also: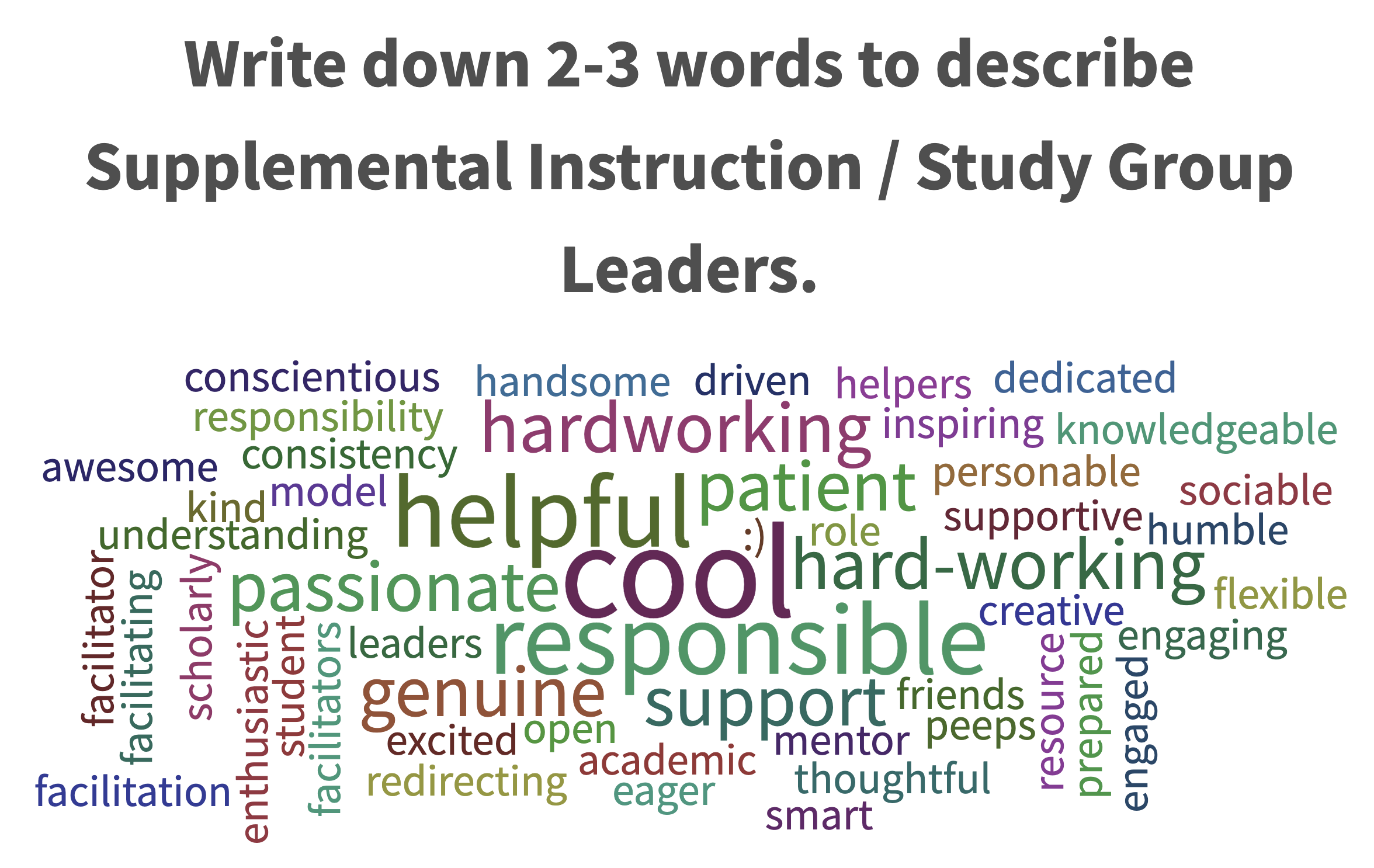 Help other students enhance their understanding of subject matter through collaborative group discussion.
Gain valuable management experience as a facilitator in a peer-based group.
Develop excellent facilitation skills.
Develop strong communication, problem-solving, and organizational skills.
Maintain familiarity with course content for professional school tests like the MCAT, DAT

 

and

 

GRE.
Earn hourly pay
Hiring Requirements
Want to work for the Academic Achievement Hub as a SI Leader? You need to meet the following criteria:
Current UC San Diego undergraduate student.
Earned a B+ or higher in the course(s) they wish to lead and took the course(s) at UC San Diego.

or have demonstrated mastery of the content through the Math Placement Exam or AP, SAT subject, or ACT scores

or have excelled with a grade of B+ or higher in equivalent course(s) at another institution 

Maintain strong course content knowledge and are willing to attend one lecture per week for the course.
Strong communication skills.
Applicants who will embrace and support the philosophy of the program, meaning Leaders use facilitation techniques to help session attendees teach and learn from each other and, in contrast to an instructor or TA, do not directly instruct, tutor, or give answers.
Minimum GPA requirement of 3.0
Professional Development
New Leaders hired will be required to attend training sessions and to shadow experienced Leaders prior to leading sessions themselves.
Develop SI session plans to ensure group members stay on task and work collaboratively on course content.
Facilitate a group of enrolled students who meet weekly to study in a structured, collaborative environment.
Maintain accurate session attendance.
Collaborate in meetings with other Leaders to create new course-specific resource materials.
Build a strong sense of community in sessions where all members feel comfortable taking intellectual risks, making mistakes, and having fun while learning.
Create and provide supplemental materials, including problem sets and exam reviews that help students master course material.
Utilize collaborative learning techniques and activities that encourage attendees to learn from each other.
Be available to support sessions by: 

Working 

6-10 hours/week [includes 3 – 50 

minute

/week SI sessions, attend each course lecture (3-50 minutes/week), and preparation time], participate in weekly training sessions, and utilize a TritonEd site with a variety of resource materials.

Work 4-6 hours/week [includes 1 – 80 minute/week Study Group session, attend the one-course lecture (1-50 minutes/week or 1-80 minutes/week), and preparation time], participate in weekly training sessions, and utilize a TritonEd site with a variety of resource materials.

Encourage students to seek out their TA or instructor when they are unable to reach a consensus on an answer or understanding of a concept.
Application Information
If you meet all hiring requirements, please click on the button below to complete the SI Leader online application. Search for the SI Leader description under the Teaching + Learning Commons.
Please note: 

Most hiring happens in the spring quarter for the next academic year, but we do hire Leaders throughout the year, on an as-needed basis.
We hire Leaders for UCSD summer sessions, as needed.
All applications will be reviewed, and those candidates that most closely match our hiring needs will be contacted for an interview.

Interviewing and hiring will be conducted on a rolling basis until all positions have been filled. 

Due to the high volume of applicants, you will only be contacted if you are selected for an interview. 

COVID-19 Student Information
Due to the current situation of COVID-19, all SI sessions will be remote. Please note that the Academic Achievement Hub is using Zoom for its remote sessions.
Our programs support academic integrity for all students. For more information, view the Academic Integrity Office web page.
We are committed to providing access to students with disabilities.  To request assistance or accommodation, please email AAH@ucsd.edu or fill out the Google Form.